The Federation of the Sisters of Charity of Saint Charles Borromeo from Nancy, France
The seven Congregations were separated from the original Institute throughout history for geographic and political reasons.
We see the historical development of the foundations in the following graphic: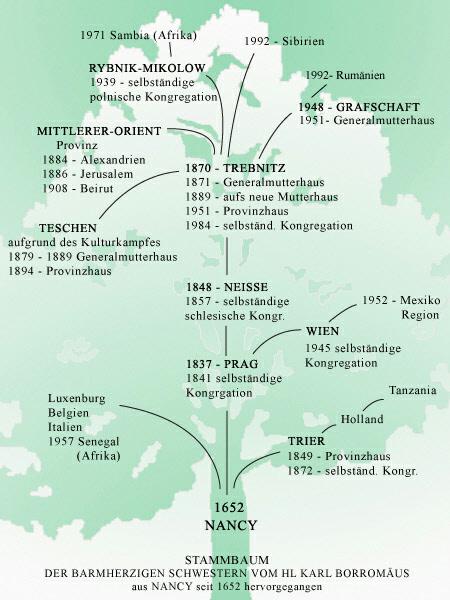 During the past century, different General Houses were born, and from them came various works in countries outside of Europe: Egypt, Israel , Lebanon, Mexico, Zambia, Tanzania, Senegal, Siberia, Romania.
Since the year 1970, the different Congregations have been united into one Federation.
More information about the different branches of the Borromean Federation:
Nancy: operasancarlo.it
Trier: smcb-trier.de
Prag: boromejky.cz
Trebnitz: boromeuszki.pl
Grafschaft: kloster-grafschaft.com
Mikolow: boromeuszki.katowice.opoka.org.pl
Wien: borromaeerinnen.at